DropBox
Click on the blue DropBox icon to send us your file(s) after order placement.
Please enter your email address and/or order number. It helps ensure that we match your order and file.
Layered PSD and TIF files MUST BE FLATTENED and resaved as maximum quality JPGs for more predictable results and faster uploading/downloading.
For a more in depth explanation regarding file specifications, please read the detailed file information below.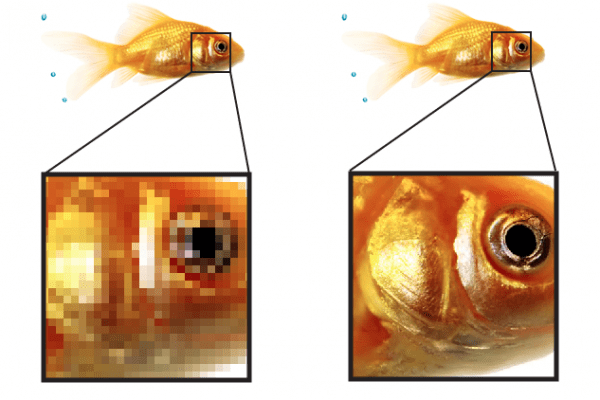 File Information (Detailed Explanation)
Please "zoom" or "magnify" your image on your screen until the image is the size that it might appear on your print to get a preview of image quality. These goldfish might appear identical on the screen but when zoomed up the one on the left is "low resolution" and might not look good printed (unless you are standing very far from the wrap). The one on the right is "high resolution" and will print fine when blown up to full size.
Resolution
Vector Artwork (i.e. Adobe Illustrator) can be blown up to any size. All other artwork should meet minumum resolution for good results: ideal range is 72dpi to 100dpi at actual printed size (FEET not INCHES). Artwork can be setup in inches=feet if art is 1200 dpi.
For example a 3 foot x 6 foot print is ideally 36 inches x 72 inches at 100 dpi. Exactly the same resolution is 3 Inch x 6 Inch image at 1200 dpi (we will blow it up 1200% for printing). Many experienced graphic artists send us art at 72 dpi, 75 dpi, 100 dpi, and they all turn out great. 150 dpi and 300 dpi are NOT necessary and create unnecessarily large file sizes. FYI your computer screen is probably 72-100 dpi and you can read this text and see fine detail in photographs. Your graphic is much larger than a computer screen and viewed from a greater distance. PSD's also create large files, convert to JPG's (maximum quality) before sending.
File Format
Preferred File Formats: JPG (Maximum Quality), PDF
Accepted File Formats: AI (fonts outlined or provided), EPS (fonts outlined or provided), PSD (flattened), TIF (flattened)
Not Recommended File Formats: PUB, PPT, DOC, XLS (these will often have resolution and/or ratio issues, and may delay your order. Suitable for mockups)
RGB or CMYK?
RGB files sometimes have gamut issues and may print differently from the screen image. CMYK files often print with slightly less vibrant colors but are more likely to match the image on your screen. You decide which format to send to us.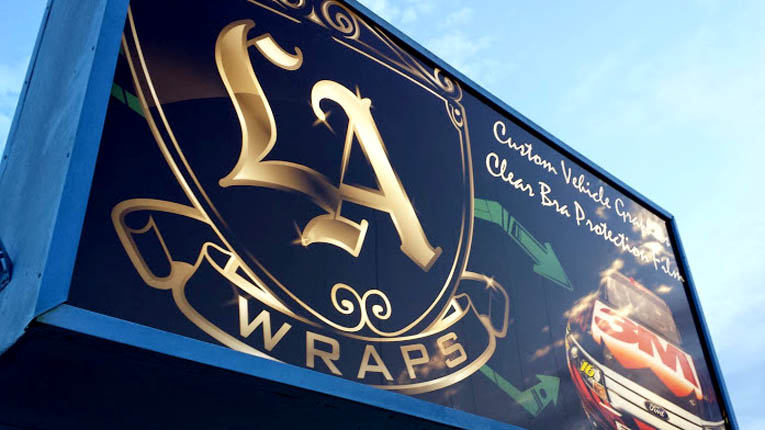 Visit Us
We are located near Western and Sepulveda cross streets in Torrance. 20 mins south of LAX.
Store Hours
M-F: 9am - 5pm
Sat: Varies
Drop In: Appt Only
LA Wraps is a leading printer and graphics installation company specializing in challenging jobs for the most demanding clientele. Our best work often involves NDAs and therefore are never seen on our site or social media.